30-Day Return

Retour sous 30 jours

Devolución dentro de 30 días

Restituzione 30 Giorni

New, unused products can be returned within 30 days of order delivery.

Les produits neufs et non utilisés peuvent être retournés dans les 30 jours suivant la livraison de la commande.

Los productos nuevos y sin usar pueden devolverse dentro de 30 días tras la entrega del pedido.

Nuovi prodotti inutilizzati possono essere restituiti entro 30 giorni dalla consegna dell'ordine.
Free Shipping

Livraison gratuite

Envío gratis

Spedizione Gratuita

No shipping charge on orders over 49€ to UK and EU destinations.

Pas de frais d'expédition pour les commandes de plus de 49 € vers la Grande-Bretagne et l'Union européenne.

Sin gastos de envío en pedidos superiores a 49 € a destinos de Reino Unido y la UE

Zero costi per ordini sopra 49 € a destinazioni in UK e EU.
Rider-Friendly Warranty

Garantie adaptée aux cyclistes

Garantía que protege al ciclista

Garanzia Rider-Friendly

Our market-leading warranty policy protects your purchase for up to 24 months.

Notre politique de garantie, meilleure du marché, protège votre achat jusqu'à 24 mois.

Nuestra política de garantía líder en el mercado protege tu compra durante hasta 24 meses.

La nostra politica di garanzia leader di mercato protegge i vostri acquisti per 24 mesi.
Thunder T1 Fat Tire All-Terrain E-Bike
Vélo électrique tout terrain à larges pneus Thunder T1
Bicicleta eléctrica todoterreno con neumático grueso Thunder T1
E-Bike Thunder T1 con Pneumatici Larghi per Tutti I Terreni
Built with puncture-resistant 26″ x 4″ fat tires and a 3.1-inch adjustable front fork, Thunder T1 offers secure and comfortable riding on rugged terrains and paved roads alike. Équipé de pneus larges de 26″ × 4″ anticrevaisons et d'une fourche avant réglable de 7,8 cm, le Thunder T1 offre une conduite sure et confortable sur les terrains accidentés comme sur les routes pavées. La Thunder T1, fabricada con neumáticos gruesos de 26 x 4 pulgadas resistentes a pinchazos y una horquilla frontal ajustable de 3,1 pulgadas, ofrece un manejo seguro y cómodo tanto en terrenos accidentados como en carreteras pavimentadas. Realizzato con pneumatici larghi 26″ x 4″ resistenti alla foratura e una forcella anteriore di 3.1-pollici aggiustabile, Thunder T1 offre una guida sicura e comoda su terreni accidentati e strade asfaltate.
Learn More
En Savoir Plus
Aprender Más
Scopri di Più
Why TurboAnt

Pourquoi TurboAnt ?

Por qué TurboAnt

Perchè Turboant
Green & Efficient Transportation

Transport écologique et efficace

Transporte ecológico y eficiente

Trasporto Verde ed Efficiente

TurboAnt provides green and fun solutions for daily commuting, short-distance transportation, and off-road adventures. TurboAnt se bat pour un mode de vie plus sain et propose des solutions écologiques et amusantes pour les déplacements quotidiens, les transports sur de courtes distances et les aventures hors route. TurboAnt aboga por un estilo de vida más saludable, por ello ofrece soluciones ecológicas y divertidas para ir al trabajo diariamente, así como para transportes de corta distancia y aventuras todoterreno. In favore di uno stile di vita più salutare, TurboAnt offre soluzioni verdi e divertenti per viaggi quotidiani, brevi distanze, e avventure fuori strada.

Customer-First Service Policies

Politique de service orientée client

Políticas de servicio en las que el cliente es lo primero

Politiche di Servizio Cliente Prima

We offer a 30-day return policy, repair & replacement service for 6 to 24 months after purchase, and lifetime technical support! Votre satisfaction compte ! Nous offrons une politique de retour sur 30 jours, un service de réparation et de remplacement pendant 6 à 24 mois après l'achat, et une assistance technique à vie ! ¡Tu satisfacción nos importa! ¡Ofrecemos una política de devolución de 30 días, un servicio de reparación y reemplazo de 6 a 24 meses tras la compra, y soporte técnico de por vida! La vostra soddisfazione è importante! Offriamo una politica di restituzione di 30 giorni, riparazione e sostituzione per 6 a 24 mesi dall'acquisto, e support tecnico a vita!

Expert Reviews & Recommendations

Avis et recommandations d'experts

Reseñas de expertos y recomendaciones

Recensioni Clienti e Raccomandazioni

Trusted by experts in the industry, TurboAnt products are ideal choices for both leisure travellers and professional riders. Reconnus et recommandés par les experts du secteur, les produits TurboAnt sont le choix idéal pour les cyclistes amateurs et professionnels. Los productos TurboAnt, avalados y recomendados por expertos en la industria, son la elección ideal tanto para viajeros de ocio como para ciclistas profesionales. Fidato e consigliato da esperti nella nostra industria, i prodotti TurboAnt sono scelte ideali per viaggi di piacere e ciclisti professionisti.
Trusted by 30,000+ Users and 20+ Rental Centers
Plus de 30 000 Clients et Plus de 20 Centres de Location Nous Font Confiance
Más de 30 000 Clientes Y Más de 20 Centros de Alquiler Confían En Nosotros
Fidato da 30, 000+ Clienti E 20+ Centri di Affitto Bici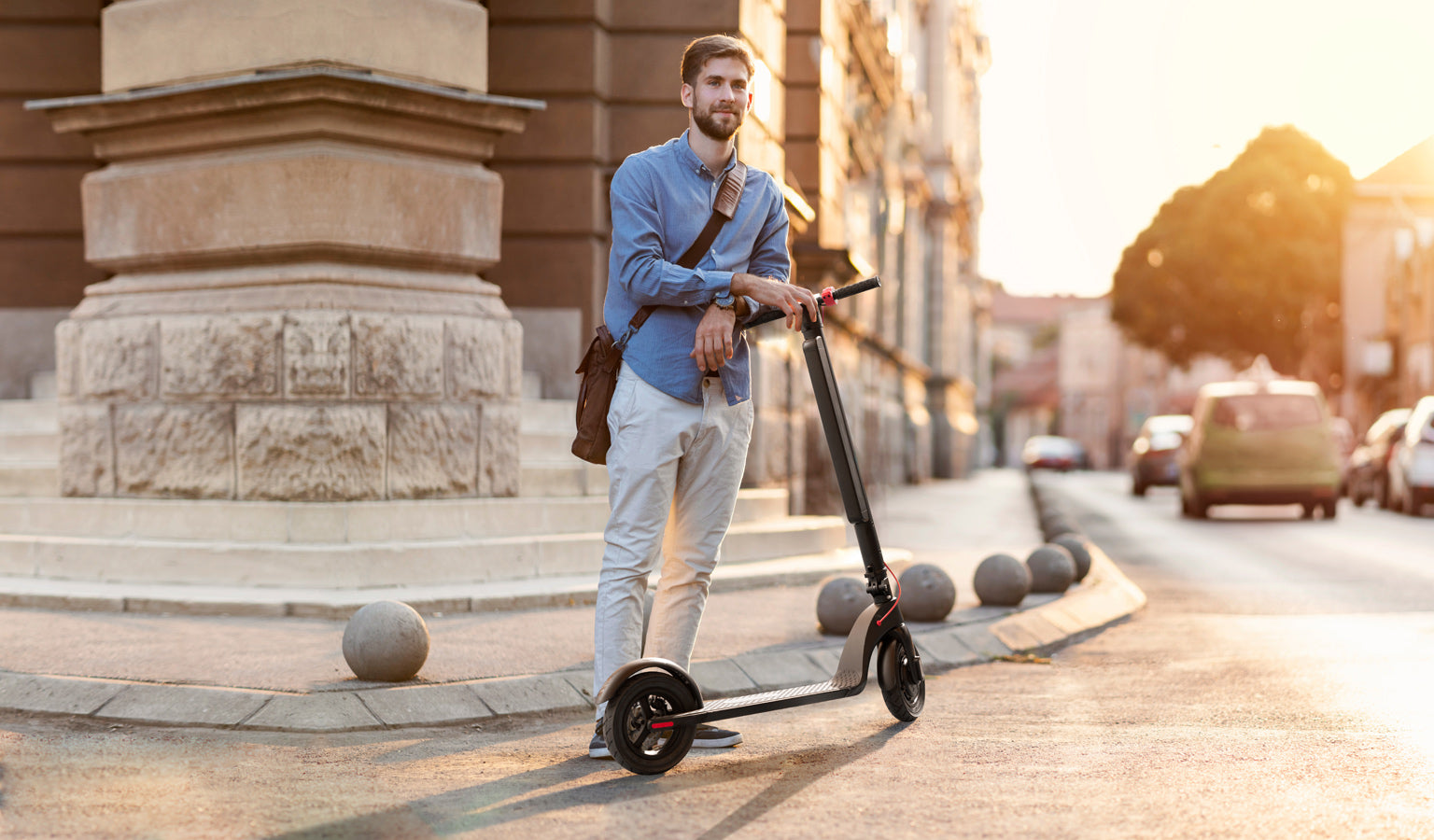 Fun and easy commuting
Navettes amusantes et faciles
Ir al trabajo es divertido y fácil
Pendolarismo veloce e divertente
"This scooter is so much fun! I ride it to work and arrive at work much faster and easier than taking a bus. I especially love riding it leaving work when the temperature starts to cool down. It makes commuting fun. Love it!"
"Cette trottinette est vraiment amusante à conduire! Je l'utilise pour aller travailler et j'arrive au boulot beaucoup plus vite et plus facilement qu'avec le bus. J'aime particulièrement la conduire pour rentrer après le travail, lorsque la température commence à rafraîchir. Cela transforme mes navettes en parties de plaisir. Vraiment je l'adore !"
«Este patinete es muy divertido! Voy al trabajo y llego mucho más rápido y fácil que tomando el bus. Me encanta conducirlo y salir del trabajo cuando la temperatura comienza a bajar. Hace que ir al trabajo sea divertido. Me encanta!».
"Questo monopattino è veramente divertente! Lo guido a lavoro e arrivo a lavoro molto prima e facilmente rispetto a quando prendo l'autobus. Mi piace in particolare guidarlo tornando da lavoro quando la temperatura si rinfresca un poco. Rende il pendolarismo divertente. Lo amo! "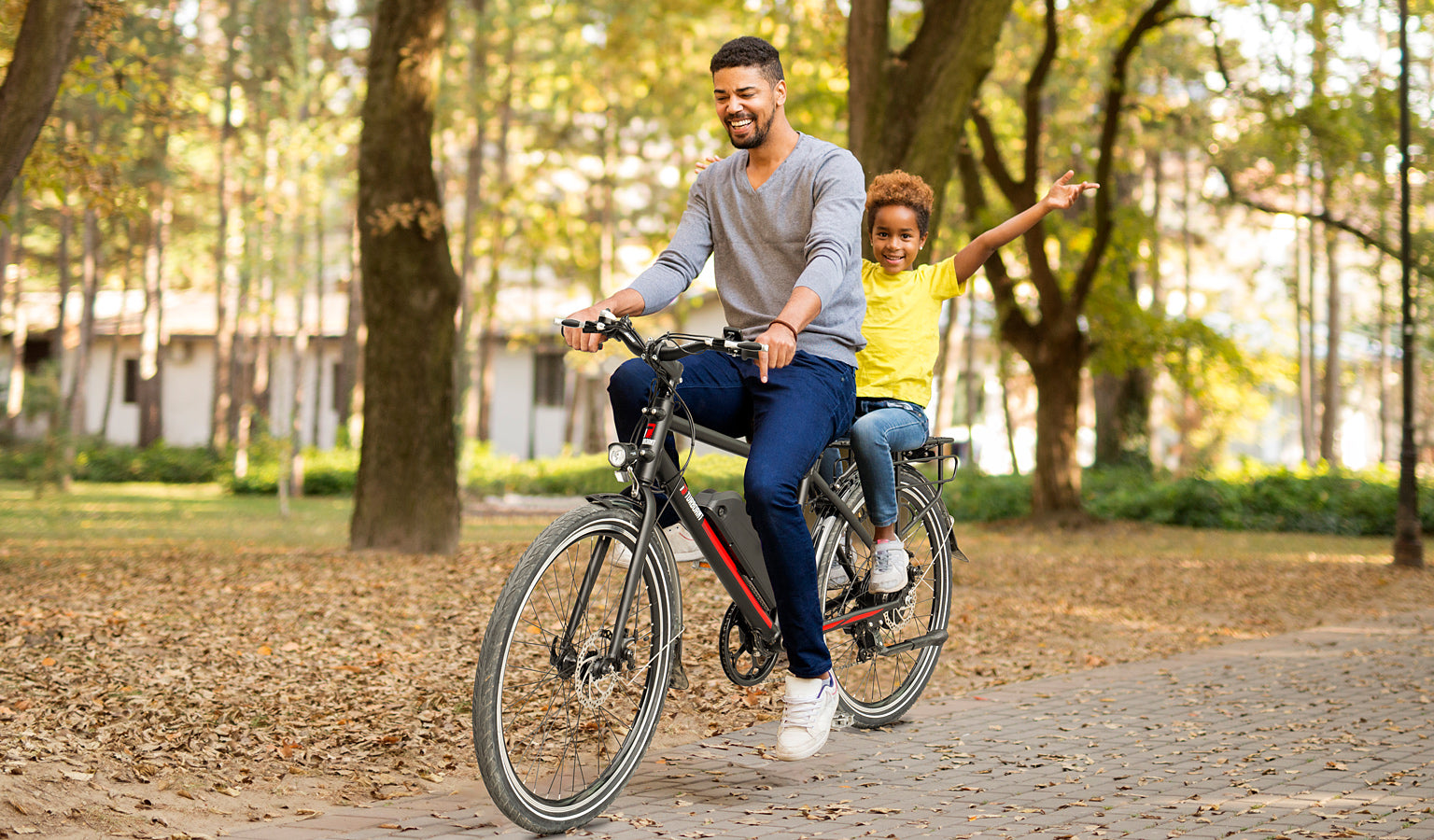 I rode it for a weekend family activity
Je l'ai utilisée pour une activité familiale de week-end
La conduje para una actividad familiar de fin de semana
L'ho guidato per un'attività di famiglia nel weekend
"I installed a rack myself and went to the zoo with my daughter. It was fun, and the rack is wide so my daughter can sit on it comfortably. We stopped whenever we needed to so it was very convenient. I was worried that the battery couldn't power up the trip to and from the zoo, but looks like there's nothing to worry about."
"J'ai installé moi-même une tablette et je suis allé visiter le zoo avec ma fille. C'était amusant, et comme la tablette est large, ma fille a pu s'asseoir dessus confortablement. Nous nous sommes arrêtés chaque fois qu'il le fallait, et donc c'était très facile. Je m'inquiétais seulement de ce que la batterie ne serait pas assez puissante pour faire l'aller-retour maison – zoo, mais apparemment, ma crainte n'était pas fondée."
«Instalé una silla yo mismo y fui al zoológico con mi hija. Fue divertido, y la silla es amplia así que mi hija se puede sentar cómodamente. Parábamos cuando lo necesitábamos por lo que fue muy conveniente. Estaba preocupado porque la batería no durara el viaje hacia el zoológico y de regreso, pero parece que no había nada de qué preocuparse».
"Ho installato un rack e sono andato allo zoo con mia figlia. Era divertente, e il rack è largo perciò mia figlia ci si può sedere comodamente. Ci fermavamo ogni volta in cui dovevamo perciò era molto comodo. Ero preoccupato che la batteria non potesse alimentare il viaggio di andata e ritorno dallo zoo, ma a quanto pare non c'è nulla di cui preoccuparsi"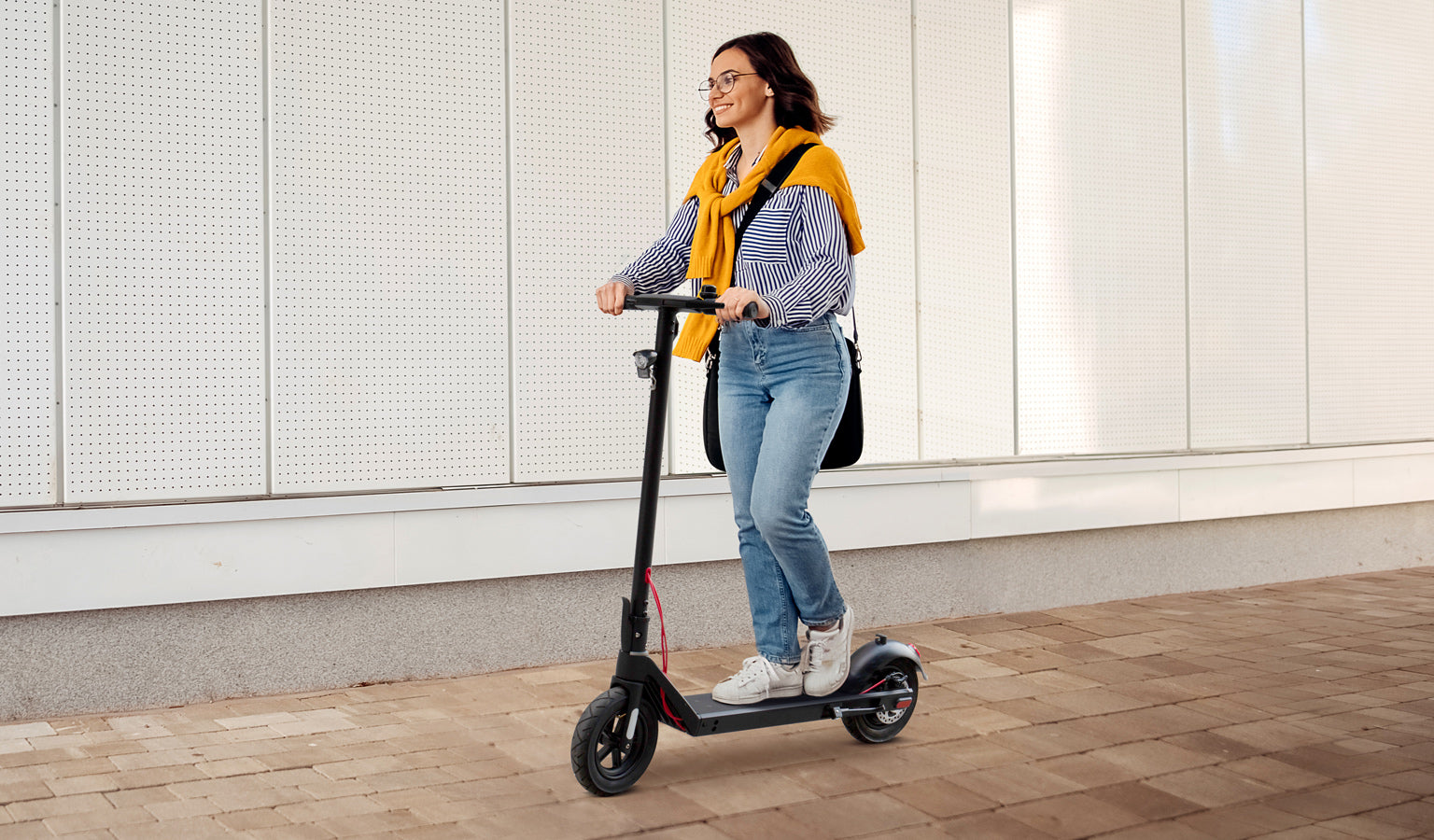 Very useful
Très utile
Muy útil
Molto utile
"Love the scooter, wanted it for going and coming home from work and it pretty much does that. For the use I need it for by the end of the day I still have a full battery and it can last me 2 days. Super happy with the product."
"J'adore la trottinette, j'en voulais pour aller au travail et rentrer à la maison, et elle fait très bien le job. Pour l'utilisation que j'en fais, en fin de compte, ma batterie est encore pleine et une charge me dure deux jours. Je suis super content de ce produit."
«Me encanta el patinete, lo quería para ir y volver a casa del trabajo y prácticamente hace solo eso. Para lo que lo necesito, al final del día todavía tengo la batería llena y puede durarme 2 días. Muy contento con el producto».
"Amo il monopattino, lo volevo per andare e tornare a casa da lavoro e fa praticamente questo. Per l'utilizzo che ne faccio alla fine della giornata ho ancora una batteria piena e mi può durare 2 giorni. Molto soddisfatto del prodotto"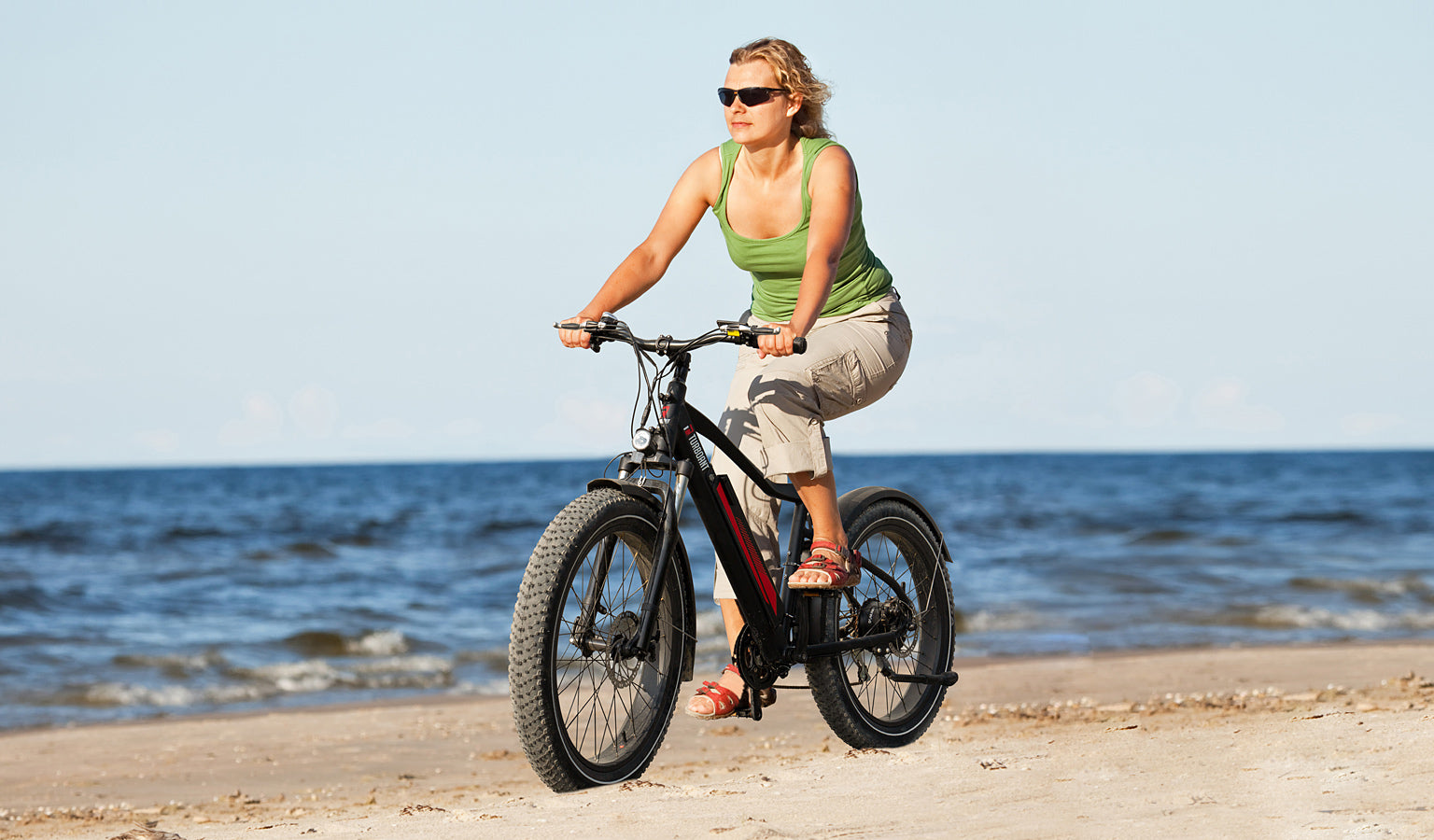 It's the new trend
C'est la nouvelle tendance
Es la nueva moda
È la nuova moda
"Definitely eye-catching to ride on the beach I have to say! Especially on weekends, people love coming to the beach and renting a bike to ride. It looks awesome, and they seem to have a great time riding it. I can see they are not only just riding but also taking tons of photos. Worth a try, it's the new trend now."
"On ne passe certainement pas inaperçu quand on roule sur la plage, je dois l'admettre ! Surtout le week-end, quand les gens aiment venir à la plage et louer un vélo pour rouler. Il a un look génial et ils semblent vraiment s'amuser à le piloter. Je peux voir qu'ils ne font pas que rouler, mais qu'ils prennent aussi des tonnes de photos. Ça vaut vraiment le coup d'essayer, c'est la nouvelle tendance maintenant."
«Debo decir que definitivamente llama la atención al conducir en la playa! En especial los fines de semana, a la gente le encanta venir a la playa y rentar una bicicleta para montar. Se ve asombrosa, y parecen disfrutar mucho montando. Puedo ver que no están solo montando sino también tomando muchísimas fotos. Vale la pena probar, es la nueva moda ahora».
"Sicuramente accattivante da guidare in spiaggia devo dire! Specialmente durante i weekend, le persone amano venire in spiaggia e affittare una bici da guidare. Ha un aspetto spettacolare, e le persone sembrano divertirsi un sacco alla guida. Vedo che non solo guidano, ma fanno anche tante foto. Vale la pena fare un tentativo, è la nuova moda del momento"